Mao-Ning Tuanmu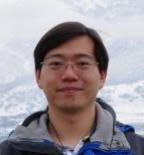 Former Postdoctoral Researcher
Bio:
Former Postdoctoral Researcher
Address: Biodiversity Research Center, Academia Sinica, Taipei 11529, Taiwan
My research interests are oriented towards spatial patterns and temporal dynamics of species distribution and biological diversity, and their underlying processes and drivers.  In particular, I am interested in how ecologically relevant information can be extracted from remotely sensed data and how the information can help us better understand biodiversity patterns and be used for guiding biodiversity conservation.
Please see my personal website.
Area of Interest
Assistant Research Fellow (tenure-track faculty) - Biodiversity Research Center, Academia Sinica, Taipei, Taiwan
Education
Postdoc Jetz Lab, Yale University
Ph.D. Fisheries and Wildlife. Michigan State University, U.S.A. 2012
Dissertation: Spatiotemporal Dynamics of Giant Panda Habitat: Implications for Panda Conservation under a Changing Environment
M.S. Zoology. National Taiwan University, Taiwan. 2001
Thesis: Habitat Use of Crab-eating Mongoose (Herpestes urva) in Fushan Experimental Forest
B.S. Zoology. National Taiwan University, Taiwan. 1998
Area of Interest:
Assistant Research Fellow (tenure-track faculty) - Biodiversity Research Center, Academia Sinica, Taipei, Taiwan