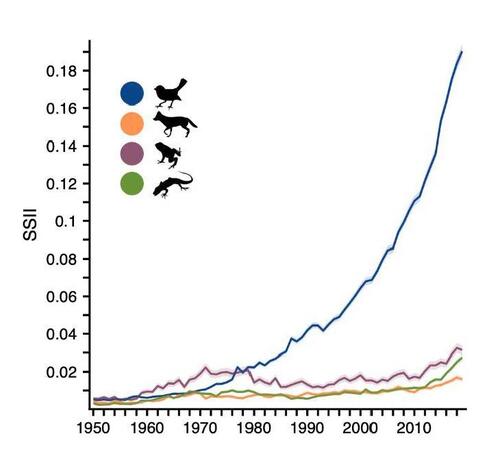 As the parties to the UN Convention on Biological Diversity reconvene to establish targets for maintaining and safeguarding biodiversity, there is a critical need for quantitative approaches for tracking nations' progress in achieving international goals. In a new study published in PLOS Biology today, BGC researchers Ruth Oliver, Ajay Ranipeta, Kevin Winner, and Walter Jetz present two novel metrics to assess the data coverage and sampling effectiveness of our global store of biodiversity records available through the Global Biodiversity Information Facility (GBIF). The results highlight trends and gaps in the documentation of terrestrial vertebrates since 1950, with the goal of supporting future biodiversity monitoring. Particularly striking is the fact that many records have not translated into new information on species and their distributions. Redundant sampling is especially pronounced for bird species, likely due to their popularity with the general public. "We hope our work quantifying the tremendous complementary value of observations of underreported biodiversity can support more effective data collection going forward," said Ruth Oliver.
The results are available for exploration and download on the Map of Life page at mol.org/indicators/coverage.
Check out the full article here, and the Yale press release here!