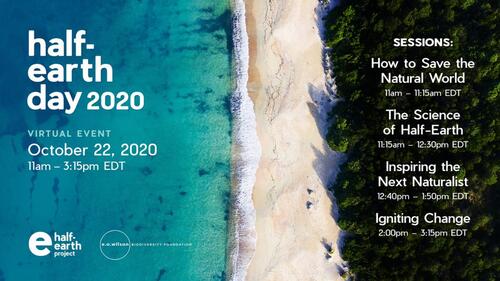 Join Us for Half-Earth Day right from your own home!  
Register 
here
!
Half-Earth Day® brings together people from around the world and across disciplines to share their unique perspectives and thought leadership on how we can work together to achieve the goal of Half-Earth and ensure the health of our planet for future generations.
Inspired by renowned biologist and naturalist E.O. Wilson, Half-Earth is a call to conserve half the Earth's land and sea in order to provide sufficient habitat to safeguard the bulk of biodiversity.
The event includes a science lecture and panel discussion on "Evidence and Policy in Species Conservation" moderated by Yale BGC Center Director Walter Jetz including representatives from the global and US regional science policy interface.
Linking Evidence and Policy in Species Conservation
Countries are stewards of their biodiversity and their institutions are at the frontline of daily conservation decisions. Next year will see the completion of the Post-2020 Global Biodiversity Framework that many hope will represent a 'Paris moment' for biodiversity – a set of ambitious goals by nations worldwide for safeguarding biodiversity. Our panel will discuss the opportunities for science to track international policy targets and to support regional conservation decisions, with a spotlight on the collaboration of scientists and agencies in California.
Featuring:
Hilary Allison, Head of the Ecosystem Assessment and Policy Support Programme at UNEP-WCMC
Jon Jarvis, Executive Director of the Institute for Parks, People and Biodiversity at the University of California, Berkeley, and former Director of the National Park Service
Jennifer Norris, Deputy Secretary for Biodiversity & Habitat, California Natural Resources Agency
Henrique Pereira, Co-Chair GEO Biodiversity Observation Network and Professor of Biodiversity Conservation, iDiv Germany
Dawn Wright, Esri Chief Scientist and E.O. Wilson Biodiversity Foundation Board Member
To learn more about Half-Earth Day, Click Here